*Warning picture intensive!
It's been a boring yet weird week. A few mind blowing incidents and a hell lot of predictable stuffs, the only thing that I kept in mind to give myself motivation was that Majolica Majorca was launching in Penang on Thursday. How exciting is it? MM is finally here in Malaysia after waiting and dreaming of it! To the guys out there, you're probably scratching your head wondering what the hell is MM, well here's a brief intro;
'Majolica Majorca is a tremendously popular makeup series from Shiseido, it's aristocratic packaging is beautiful, creative and attractive. With quality cosmetics and affordable prices, Majolica Majorca is one of the most popular lines of all things Shiseido.'
In a nutshell, it's a sub brand from Shiseido and it's pretty much at a drugstore brand in Japan like our Loreal, Maybelline and stuffs.
I'm happy because now I don't have to buy any of the
OVER
priced MM stuffs in forums. The pricing in the forums are crazy with mascaras ranging from RM60+ and now we finally know that it actually cost about RM46. Taking shipping into consideration and still having to pay for the postage to our house, buying one MM mascara online can easily cost you a
pretty penny
, if you get my drift.
I'll include the swatches and pricing for all their available products in the blog so anyone/ everyone who's interested. I didn't manage to head there on Thursday but Friday after work was good. Since it was Watson, nobody gave a damn and I could take all the swatches I wanted. MUAHAHAHAA.. [insert evil laugh]
MM has 3 types of mascaras and one primer. The mascaras cost RM45.90 each. Currently no tester.
Majolica Majorca Lash Gorgeous Wing
RM45.90 each
DESCRIPTION: Combines 2 types of fibers - long & short, to fill up the gaps in between eyelashes, hence creating volume-up!!! Eyelashes will spread wide too, just like wings! Waterproof type.
M
ajolica Majorca
Lash Beautifying Mascara
DESCRIPTION: Contains 20% more fiber for extending length of eyelashes. Separates & defines each lash clearly.
Majolica Majorca Lash Enamel Glamour Neo
Majolica Majorca Lash Bone Mascara Base
DESCRIPTION: Serve as a base before mascara application. Eyelashes will stay firm & curl for easy application of mascara. It will also make eyelashes look thicker & longer.
Lash Bone, fine fibers that can make each strand one size thicker and longer. Adheres to lashes to strengthen curl and holding power.
Majolica Majorca MajoLook Trick On
RM53.90
DESCRIPTION: Powder eyeshadow with the same glossy & shiny finish of a gloss eyeshadow. Astonishing 3-D effect!
Majolica Majorca MajoLook (Luminioustic)
RM49.90
DESCRIPTION:
It comes with a luminoustic base to increase light reflectance and diminishes uneven skin tone.
A. Glitter powder: Highlight effect
B. Shiny Powder: Sharpening powder
C. Metallic powder: Strong Impression
Currently only 2 colours is available. Red and Brown.
Majolica Majorca
Shadow Customize
RM20.90
DESCRIPTION: Effects of 3D colours of polarizing pearls. Contains refine pearls which lightens up your eyes.
It comes in 15 shades and 3 different types of effect, Opalescent, polarized pearly 3-D effect
Luminoustic - natural pearly colour
Metallic - Glitter dazzle and shine. Pearly metallic colour
Majolica Majorca
Frozen Splash Eyes
(RM29.90)
DESCRIPTION:
Shimmery cream shadow in 6 colours.
Majolica Majorca Cheek Customize
RM29.90
DESCRIPTION: Powder with 3-D effects to highlight your cheeks. When apply on higher areas, it will lift up your cheeks. When apply on lower areas, it acts as a shadow to tone down.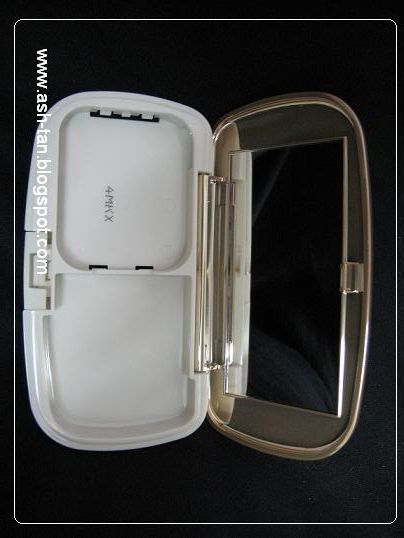 Majolica Majorca Skin Remaker Foundation
DESCRIPTION: UV care with SPF 18 PA+. Foundation that covers acne & pores. (Comes with sponge)
Refill (puff included) RM 55.90
Case RM24.90
I heard rumors that ZA compact powder refills can also fit into the MM casing. Let me tell you, they are only half right. It can fit in but it's a VERY tight fit. I would know =_=;;
Majolica Majorca Pressed Fantasia 24th Face Powder
DESCRIPTION: Light compact powder that protects skin for 24 hours. Not only a suitable makeup for a day's out, but also as night makeup while you sleep. (Comes with puff.)
Refill (puff included) RM35.90
Case RM24.90

Majolica Majorca
Skin Lingerie (OD Control)
RM39.90
DESCRIPTION:
Oil-control Make up base. Use before foundation to help skin stay looking matte
Majolica Majorca Neo Automatic Liner
RM43.90
DESCRIPTION: Renew version, shinier than before. Voted as 3rd for "Japan's Best Cosmetics - Eyeliner". Waterproof.
Liquid eyeliner. It's a twist version, currently no tester
Comes in 7 colours, black, Black with glitter, brown, gold, red, green and white.
Majolica Majorca Jeweling Eye Pencil
RM26.90
I'm in love with the Beige one, anyone out there wants to buy it for me? LOL!
It comes in 10 colours.
Majolica Majorca
Rouge Majex
RM33.90
DESCRIPTION: For cracked & dry lips. Contains 70% of moisture contents.
Majolica Majorca Honey Pump Gloss
RM17.90
DESCRIPTION: Lip gloss which firmly holds moisture. Contains honey & royal jelly essence with a slight sweet berry fragrance.
Intense rich gloss. Tempting, oh-so-tempting.
Comes in 10 colours.
Majolica Majorca Majex
RM 28.90
DESCRIPTION: New saviour of lip care! For rough & cracked lips. Contains thick moisture essence.
I'm not covering the nail colour part. Too lazy.
I'll leave the eyebrow, lip balm and mascara reviews to Elisa as I did not buy them. If you're interested head over to her blog to check it out.