It's Saturday night and I have nothing to do. And boredom compels me to do something. Anything. So I watched
Youtube
. And surf the internet. Then I got a bright idea, "
Hey, lets go see what 2009 Summer trend make up is and maybe do a EOTD
" , and after endless of fruitless search as nothing catches my eyes, I saw a tutorial on
gothic lolita
make up.
As you may know, I'm already a quarter of a century old, I'm way too old to put on these kind of make up and what more to go out in them but it doesn't mean I can't try it all in the safety of my own room.
Pile on the black people, difference between just nice and alot :P
So on wards ho! Since I was out with E to Gurney, I already had on some make up, instead of washing them off, being lazy old me, I just pile them on. Black covers everything and anything anyway.

Items used: Silky Girl, Yin & Yang, Mac Typographic, Black eyeliner, Nyx jumbo eye pencil Black Bean, and Falsies
I watched the tutorial and pretty much got a rough idea on what the hell was a
gothic lolita
make up is. According to this girl, it's just black black and more black. Fine with me, I like black eye shadows, so I gather my required items, the girl Eemeraude, used liquid eyeliner on some parts but since I don't own any good liquid eyeliner, I skipped that part. I didn't wanted to waste my
Bobbi Brown
gel eyeliner either so I opted for
Nyx jumbo eyepencil in Black Bean
which has been sitting on my dressing table for months untouched. Grab the nearest and blackest eyeliner, black eyeshadow to put on top of Black Bean and I'm done.
WRONG!!
This came out wrong! Oh so wrong, it was too high and roundish that it was the perfect for the Panda Festival - if there was ever one... Next eye!


WRONG AGAIN!!


Too high, too sharp, too tilted! I didn't notice how wrong it was till I did both eye in this shape. Took a step back and gasp! I look good with a slight cat eye look as I have single eyelid almond eyes but this was too much! It looks awful! At this point, I have successfully messed up both eyes and it was also at this point I realized where I've gone wrong.
If you remember make up artists telling you to be careful with black eyeshadow and eyeliners, and if you do a mistake, you gotta remove everything. Guess that's only cause they have not encountered
Watson's make up remover tissues
. These tissues removes everythingggggg. I ain't kidding. They are cheap too, got them when they were
buy 1 free 1
. Just be careful near the eyes as they can sting. A few "minor" adjustments later;
So I reshaped by slowly removing line by line the top of the shadow and making the end slightly lower.


The end result
All g
othic lolitas
has nice curly hair or long black hair and I don't have either, so pulled out my neglected wig and put it on. To be truthful, it doesn't really look like me...
And uhh, forget everything else, my make up was at least 9 hours old and I didn't touch up but I did slap on some clear lip gloss from Ettusais.
...
See how big my eyes are! In reality, my eyes can hardly be seen, nyahaha!!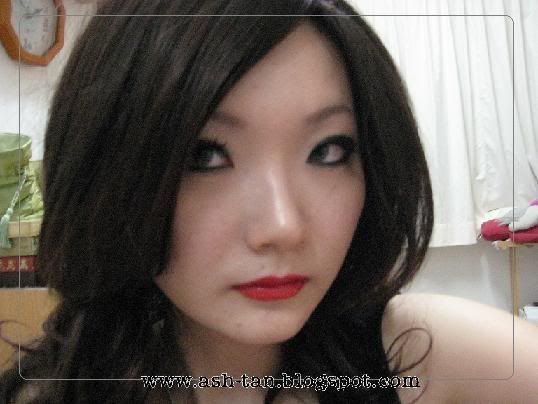 Remember when your mom said, don't pair dark eyes with red lips cause you'll look trashy?
She wasn't kidding.
I pinned up my hair
cause
the wig was HOT


Celeste saw me and went, "Uhhh..."
LOL
The pictures would have been nicer if only I knew how to photoshop like some people so for now you get what you see, please bear with it.
Was sweating alot when I was trying to snap the pictures and it was actually raining outside. o.O;; Had one funny shot when I manage to snap a picture of myself while I was blinking, cracks me up thinking how stupid I was and that maybe sometimes my hands are faster than my brains. Hand, eye, brain coordination - FAIL
P.S : If you have the time, please post a pin (not your ATM pin number, as much as I would like you too XD) on my
Bravenet Guestmap
right on the bottom under my counter. Thanks!!