Ahh, what is there to write? Except that I have a hair style that only Poodles would love. Like seriously. No, I'm not in the mood to post up pictures of my hair right now. Perhaps later. I wept sorrowfully on my bed upon returning from the hair dresser.
There was a serious miscommunication between me and my hair dresser with each of us having a different picture in our head. And to think, I endured and kept my hair to shoulder length to get this hair and now all I want to do is dunk my head in a tub till it straightens.
The words,
'I trust you'
is now haunting me.
Work started since last Tuesday. I don't want to complain so I'll skip that part or 500 pages won't be enough for me. Elyn's package arrived! What a surprise. Came home from work and there it was, a HUGE parcel with my name written on it with a note to make me burst out laughing.
In it, there was a bag of sweets, filled with green tea sweets and delicious with sticky, chewy plum fillings. Elyn, you shame me. I sent you 2 sweets and you sent me a bag full T.T I was so ashamed!
There was also crackers, sweets, cookie shaped picks and a bottle of L'Occitane Fleur de Cerisier body lotion. Why must you send me such expensive gifts? Didn't I say I'll pay for the lotion? Stop being difficult and give meeeee your account numberrrr~
P.s: I've been trying for days to upload the pictures to no avail. Something wrong somewhere. Had to use photobucket o.O
NOTD - Music sheets
Well, I guess if there's one way to cheat during a music exam. If you're suppose to memorize the notes, just stamp them on your nails :P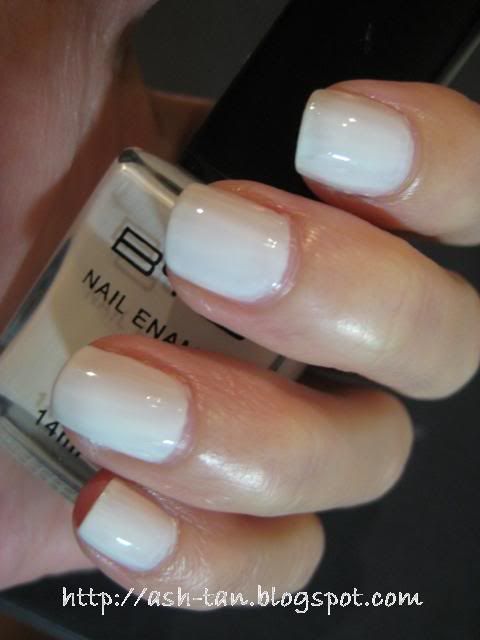 But normally, they'll just make you play and tone deaf people like me won't go far even with the notes stamped on my nails.
Used:
BYS white
Stage Cosmetics base coat
Elianto Top Coat
Elianto Black
Konad M73