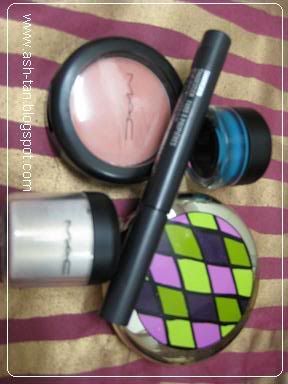 Some new M.A.C stuffs I recently got both online and from counters.
Left to right: M.A.C blush in Fleurry, Shadestick in Sharkskin, Fluidline in Blue Peep, Vanilla Pigment, Beauty Powder in Softdew
I was reading through Elisa's blog and came across her post about rude make up artist over at M.A.C. I had a lot of say about them just as well but sometimes I'm a little hesitant considering that Penang is pretty small and words does get around.
Out of all my entire M.A.C collection and still adding, only less than
three
items are bought at M.A.C Gurney Plaza. Why is this you might ask, considering that Gurney Plaza is less than six minutes drive from my house. Easy, because the people is rude rude rude.
Out of the entire staff at M.A.C Gurney Plaza, there's only
two
MUA that I feel is friendly. The rest either has no knowledge of what the hell they are even selling or is too busy primping them self to even bother with you. If you walk in not looking like a million bucks, be prepared to wave your hands around just to ask for assistance and be prepared for a lot of eye rollings.
There is even a time when I went there and there was
two
MUAs on duty,
one
of them was serving a customer while the
other
just sat inside the store (the door was opened) and refused to even served me. I doubt it was her break time.

She was probably in there counting her pubic hair, 10 hair tie a knot. 10 hair tie a knot or something.

Most of my M.A.C stuffs are bought in either M.A.C counters in MidValley or Pavillion, KL and once in Singapore. And 80% of the time, the girls/ guys are rude. I don't particularly understand why, they just are.
So one of the things I do is, I surf the net and youtube to find out the products I'm interested in so that I don't ask them too much question and incur their eye-rollings then I drag a friend, who usually is the unlucky Elisa to
accompany
me to the counter for emotional support. So I don't freak out and run out.
Isn't it strange not to be able to walk up to your favourite counter and just browse around and test the colours out and instead having to do
tons of research
online so that you don't make a fool out of yourself in front of the oh-so-high-and-mighty MUAs. I've never had a problem walking up to a cosmetic counter and buying anything I like and to test out their products but the girls/guys in M.A.C just gives us a head to toe scan to even see if we're worth being served and make us feel like as if we're totally a waste of their precious time despite the fact that we're there to spend money.
I've been using make up for quite some time now, close to 10 years to be exact and it's one of my loves. I've been through trials and errors and I'm definitely not a noob. I may say that I'm a novice/amateur but
NEVER
a noob.
During the Fafi launch, I bought the Iridescent powder in
Verve-Acious
because it looked good on me and Elisa (being the unlucky person who had to accompany me) loved the colour on me. I didn't get
Belightful
because I didn't need another highlighter. When me sister went to buy the M.A.C a day later and when the MUA found out I bought
Verve-Acious
she
laughed
at me. Laughed and said that only Indians usually bought that colour. Imagine my embarrassment.
I've worked for beauty counter such as
Ettusais
before and I have
never ever
laughed at a customer for any reasons. Even if something sounds outrageous, I'll always remember that it's fine as long as it looks good and the customer is happy with it.
I stood there stunned and upset having a MUA treat me like a total noob and went home to try the colour on again. Although it's supposed to be a bronzer, the colour is sheer, I used it as a blusher and it looks fine.
Nowadays, I do not approach M.A.C unless the new collection I've been eying is finally on sale and even then, I do TONS of research, get the items and literally run out. I do not linger around to test other items. I'm so nervous to even approach M.A.C that I get sweaty palms before I even go in. *sigh*
I heard MUAs working in M.A.C needs a Beauty Cert. to even work there, Beauty Cert is one thing, but they forgot to screen their staffs for manners and etiquettes. Sad. Or maybe they got hired just for that!
And like Elisa mentioned in her blog;
"they failed to remember they're only '

Sales Assistant

'. I don't care if you prefer to call yourself as a

Make Up Artist

. But hell, I could be a makeup artist myself and you don't see me being high and mighty."
I've met lots of Make Up Artist and I've never seen anyone as arrogant as the ones in M.A.C. Thing is, they are Sales Assistant as well meaning they are there to make a sale. Yet they somehow manage to turn people off with their arrogance. I'm impressed, M.A.C really know how to pick the
"right
" people for the job.