Besides Kevyn Aucoin, (R.I.P, you'll be missed) Google the guy up if you're wondering who the hell he is, Eve Pearl is my favourite make up artist. You can check out her tutorials on Youtube and prepared to be amazed by the magic she performs. Mind you, it's a different kind of magic,
don't
think David Coperfield kind. >.>;; She doesn't make people disappear, she just makes your wrinkles, freckles, acne scars disappear.
In case you have not even heard of that name, here's a quick 101 on the super lady. She's a 5 times Emmy award winning celebrity make up artist and the author of
Plastic Surgery without the surgery
. Her celebrity clients is longer than my usual roll of toilet paper and best of all, the make up tips she gives is gooooood.
I'm in love with her products, her products are usually infused with nutrients and vitamins that will not damage our skin. It's a little odd, even for me to speak of someone this passionately but I really do love her whole concept of make up that not only makes us feel good, look good but is also good for us. The only thing I
don't
like; the price tag. I'm not entirely surprised of the price tag considering the ingredients and all but still...
*whines*


I'm still not all sure where to even get her products beside her website (www.evepearl.com) so since I don't know, that gives me enough time to save up and hopefully get the Dual Foundation & Blush Trio with CosmeNutrients or the Eve Pearl Concealer Trio till the day I find out. But anyway, here are the tips that I found interesting and might be helpful to everyone out there.
Eye drops will remove redness not only from your eyes but also from red blemishes. Freeze a drop in a spoon, place frozen over blemish and hold, it will shrink swelling.

(Good to calm down an erupting volcano without doing the headless chicken dance)




Neosporin can help remove and heal acne overnight.

(I know a certain someone will be happy to hear this, if she could only figure out what the hell is Neosporin. XD)




Toothpaste (white paste) will help heal acne breakouts.

(Oh la la, I wonder if Kodomo Lion's Kids toothpaste helps too)




Clay masks will draw out the black heads that tend to gather around the nose, by dehydrating the top layer of skin.

(Good bye picit-picit)




Fingers: Your most trusted tool. Can apply everything with them. (So, you don't have an excuse when you forget your kit). Concealer- the heat in your fingers will help melt a thick concealer into place (especially under the eyes). Can blend cream blushes. Apply lip balm or gloss on lips. Don't forget to clean your hands when going from one application/color to another.

(Good for cleaning the inside of your nose too, ahh fingers, gotta love 'em~)




Dab a Q-tip into Jell-O cherry flavored powder and apply to lips. Let sit for five minutes and lick it off. Will give your lips a natural red coat.

(Bye-bye the need to buy Benetint, hellooo Jell-Oooooo..)



Foundation
(From eve's website)
When applying foundation, you can choose a slightly lighter shade than your skin – especially if you have oily skin. The oil in the skin actually turns the foundation darker over time, as it oxidizes.
The end goal when applying makeup to the face is to make the color tone of the face match your neck.


Take extra note of the End Goal because me and Elisa has notice this
unending
trend when girls either;
1. Get the WRONG coloured foundation and ends up with an extremely two-toned face and neck. One of the reasons we hate it when we see someone doing that is because it actually makes it look as if the person actually applied on a pan cake thick make up, whether she is or isn't. Other than that, it's a little odd and shall we say striking?
This is one of the reasons why some guys has a tendency to accuse us girls of using
ICI/Dulux/WeatherShield
paints as make up. Hey, don't drag the rest of us innocent bystanders down just because you wanna look freaky. But then again, think of how much money we can actually save if we actually did use
ICI
paints are make up.
Hmm~
2. Applies make up to her face beautifully and forgets to add a little to her neck. If you gotten the correct shade of foundation that matches your skin colour to a T, good for you, if the colour is
'close'
, do remember to apply some to your neck as well so it doesn't look like you have a mask on.
BLUSH
The purpose of blush is to give a healthy glow and help in creating dimension of contours for the face. Using the light and dark shades properly is the key to creating the dimension.


I'm not trying to insult everyone out there but just wanted to point that out too cause, we've been noticing to many youngsters using too much blusher. Remember: Healthy Glow
not
Koko the Clown and definitely
NOT
Baboon's Ass!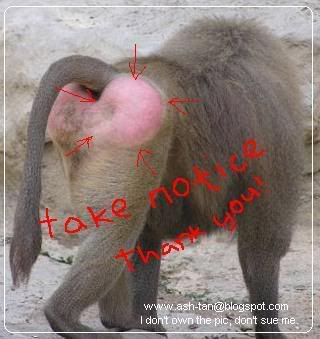 Baboon called, he wants his ass back!
Remember Ashley says: Healthy Glow is the way to go~