If there is one thing that I do love about E, is how well she knows me. I'm not too sure if I'm actually that easily readable or she really is gifted. All I had to do was, "
E, can I call you later to do a senseless rant?
"
And E will do the follow up call. It's really that easy. Of course when the times does come, I'm usually too embarrassed to tell her anything. Sure we grew up together and all but my taste in guys hasn't been the best either. I'm easily attracted I admit, it's usually the little things that he does that catches my eyes or the way a guy laughs or how he smells. And it's usually E who snaps me out of the moment of fancy and back to reality. It's usually harsh for a good reason but that doesn't mean it's always easy to swallow.

E : So what was it about?
A : *pretends to derail conversation due to embarrassment*
Hey do you know that Ian refuses to answer my call or even call me back? That idiot.
A few minutes of derailment

E : What was it that you want to rant about?
A : Uhhh.. what we just said earlier?
Seconds of silence

E : is it regarding a guy?
A : ... yea. I got a crush on someone
E : Is it xxx ?
A : YEAA, how do you know?
E : I could sense it, remember what I said when you got the muffins...
And so forth, it's so odd. The other part is that I never really know how to open my usually big mouth and tell the person. I do remember that sometimes crushes remains crushes and nothing more. But still, sometimes it's still fun to have them.
Bought everything I needed the last trip to SP so...
3 days after Etude House opened in Pg, me and E went to take a look, there wasn't as many people as I would have expected but still finally EH is finally here! We saw the diary and badly wanted it and since we had to spend RM30 to be able to buy the diary for RM9.90 we walked and browse around for a good hour before deciding.
I didn't match the colours too well and the gold was a little 'too' gold
I ended up getting the Mini French nail polish in gold, 2 eye shadows as a gift for a friend, a teal green eyeliner that I saw and fell in love with. I was going mad wondering what the hell else to buy! E got a lot more and in the end, we left with 3 diaries and a free bag that generous E gave me.
Left to right: EH Teal eyeliner, MAC Hello Kitty's Big Bow
A few weeks back, as every MAC lover would remember, MAC Hello Kitty launched and sent everyone into a frenzy. I went there on the day it was launched after work and by then believe it or not, the Hello Kitty brush holder set was already SOLD OUT!
I browse around and there was so many people around that I didn't have all too much time and space in browsing. In the end I could only pick out a lipstick,
Big Bow
and a blusher
Fun & Games
. It was only after I paid that I noticed people carrying this HK polyester bag. It turned out that we needed to spend over RM300 to get one free! I wish someone told me earlier then I would have waited to see if E wanted anything and get it at one shot. Too late.
A special gift that was inside the HK bag that Elyn gave us! Awwwww, much love Elyn
We met up with Elyn a few days later as I wanted to get the Tahitian Sand beauty powder but lo and behold, everything except the palettes and nail colour was left! There goes the beauty powder! Knowing how much I wanted the polyester bag, Elyn gave us ( me, E and Kern) hers! Imagine that! My jaw dropped to the floor when she passed us the bags! Yay!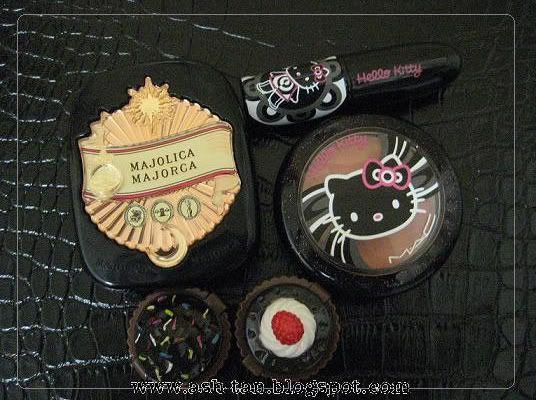 My happy stash
On friday, during lunch time, we headed over to
Perangin Mall
to have McD and while passing Watsons, I saw...
Majolica Majora Pressed Pore Cover
. It was somewhat of a special promotion at RM59.90 and I got it. I was seriously pondering if I even needed this as I already have an extra ZA powder stashed somewhere along with my endless Anna Sui loose powder and also the Face Shop face powder than E gave me some time ago.

In the end, I don't regret getting it. I really like it! The compact is a little hard to open and it only comes in one colour but other than that, it's really nice to use. It covers the pores nicely. The compact is also so pretty to look at, whee! Added bonus.